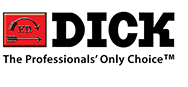 Are you looking for unique blade shapes for special occasions or challenges in the kitchen and on the grill? Friedr. Dick has many special and unusual knives with extraordinary shapes and applications for you to choose from.
Extravagant Blades
The special knives include our popular knives from the Red Spirit series: the Tanto, the HEKTOR butcher's knife and the AJAX chef's knife.
The TANTO is named after a Japanese short sword. This shape was adopted and further developed in the Red Spirit series. The result is an extraordinary knife for cutting meat and vegetables. The two parts of the cutting edge give the Tanto its impressive look and outstanding sharpness.
Do you love meat? Then our HEKTOR is just the knife for you. The knife is ideal for cutting larger pieces of meat and fish, but also perfect as a "brisket knife" for the BBQ area.
The blade shape of the AJAX chef's knife is very special and unique. In designing it, Friedr. Dick revived an antique blade shape from the 1930s. The unusual shape is reminiscent of a cleaver, an indispensable tool for the processing of meat.
Cleaning And Caring For Your Extraordinary Knives
All F. DICK knives deserve special care and attention when it comes to maintenance. Never clean your knife in the dishwasher. It's best to clean your knife with hot water immediately after use and then rub it dry. You can find more information and useful tips on how to care for, store and sharpen your knife here.