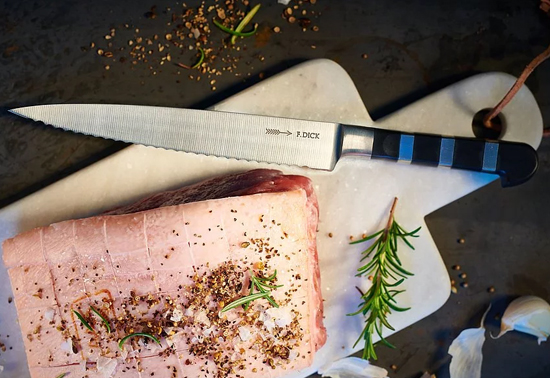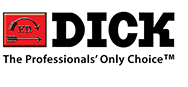 This knife is an absolute must-have, especially for meat lovers. Anyone who puts a lot of effort into their meat dishes also wants clear, clean cuts when cutting the pieces – because, as we all know, food should also be a feast for the eyes. The carving knife helps you to cut exact and even pieces and minimise the escape of valuable roast juices. This keeps the meat nice and juicy and the slices even and appetising.
Did you know that the German name of the carving knife, "Tranchiermesser", comes from the French word "trancher"? This means "to cut off" or "to slice", which fits in wonderfully with the main task of this knife. Professional chefs understand carving to mean the professional and artful cutting of meat.
Extremely Sharp For Clear Cuts
The carving knife has a functional blade shape. The blade comes in different lengths, which should be adapted to the size of the meat. The bigger your meat, the bigger your knife blade should be. From the small knife with a 15 cm blade to the carving knife with a 26 cm blade, you will find a wide variety of models from Friedr. Dick. The blade is characteristic of the carving knife – long, thin, pointed and extremely sharp for clear cuts.

The Perfect Tool For Carving
Friedr. Dick has a carving knife option in every knife series. The different lengths will help you to find your ideal knife for carving. All carving knives are designed to be sharp. However, if you prefer your roast with a crispy crust, you should opt for a special carving knife with a serrated edge.
To carve your roast professionally, you should also have another tool: The carving fork. Its two prongs hold your meat in place and help you cut precise slices of meat. Both products are also available together as a carving set.

Cleaning And Caring For Your Knives
All F. DICK knives deserve special care and attention when it comes to maintenance. Never clean your knife in the dishwasher. It's best to clean your knife with hot water immediately after use and then rub it dry. You can find more information and useful tips on how to care for, store and sharpen your knife here.