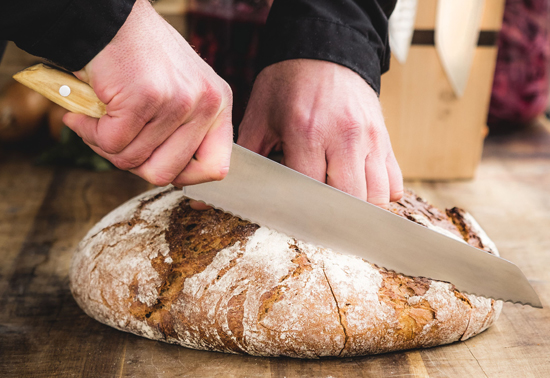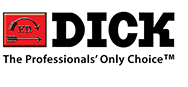 Germans love their snacks, light evening meals and packed lunches. There is no other country with so many different types, shapes and flavours of bread. So it's no wonder that the shape of the bread knife was invented in Germany. Germany stands for quality bread, just as Friedr. Dick stands for quality knives.
A Crispy Crust And a Soft Crumb
Many breads and rolls consist of a firm crust and a soft inner part, called the crumb. For many knives, this mix of consistencies is a challenge and usually ends up crushing, tearing and shredding the bread. But this is no issue for F.DICK bread knives.
But do you know the secret of this knife? The bread knife's blade with its serrated edge, also known as a saw edge, makes it very efficient when cutting. With this special grind of the blade, the food to be cut first comes into contact with the protruding serrated tips, which effortlessly cut through the crust. The troughs, on the other hand, can easily cut the crumb. With little effort, beautiful, precise and uniform slices can be cut.

Fun fact: A bread knife is not only ideal for hard and soft bread, though. Any ideas? The knife is also ideal for cutting roasts or sweet pies and cakes. The bread knife with its special blade also helps you cut hard-skinned fruit and vegetables.

Serrated Edge or Saw Edge
Whether you're a Sunday breakfaster or a professional chef, a snack fan or a culinary artist, Friedr. Dick has just the right bread knife or utility knife for every occasion and every use in its range. Here you can decide which design you like best and which handle fits best in your hand. F. DICK bread knives are available in different lengths that make it easier for you to make clean cuts. From a handy 18 cm blade, to the classic 21 cm, to our large bread knives with blades of 26 cm and 32 cm. These are particularly useful for cutting large loaves of bread.
Similar to bread knives, utility knives are also used for cutting roasts and rolls, because the blade of the utility knife also has a serrated edge. However, not all serrated edges are the same. If the distance between the tips is small, the blade is also called a saw edge. If the distance between the points is larger, the blade is called a serrated edge. The quality of the grind can be determined by the precision of the valleys between the tips.

And if you want more than just bread for your snack, we'd be only too pleased if you took a look at our other knives, such as the tomato knife or our paring knives.

Cleaning And Caring For Your Knives
All F. DICK knives deserve special care and attention when it comes to maintenance. Never clean your knife in the dishwasher. It's best to clean your knife with hot water immediately after use and then rub it dry. You can find more information and useful tips on how to care for, store and sharpen your knife here.