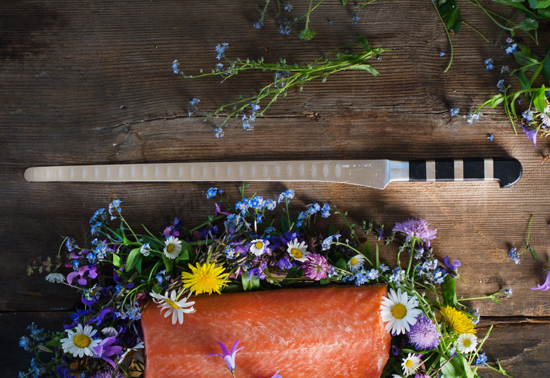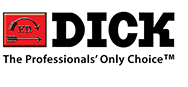 A knife for special tasks. True gourmets appreciate the salmon knife and ham slicer. A chef can attain surgical excellence when cutting wafer-thin discs of salmon, allowing their full flavour to unfold.
Whether Serano, Iberico, Parma ham or salmon – they can all be cut cleanly and appetisingly. Wafer-thin slices are cut without splitting or tearing the rest of the meat. In earlier times, the salmon knife or ham slicer often appeared at festive occasions. Its precise cutting action quickly established it as an indispensable tool in the knife bag…even to this day.
Cutting with the salmon knife or ham slicer requires a little practice. However, after a short while you quickly get the hang of it. With ham, you cut from the leg in the direction of the wide haunch. Thin slices are created close to the surface. The secret: Cut parallel to the bone and do not put too much pressure on the ham slicer. The knife will do the work for you so that every cut is a pleasure in itself.

The Perfect Balance Between Flexibility And Stability
The salmon knife has a very special shape. The blade is long and measures about 20 to 30 cm. It is also very narrow to allow for varying degrees of flexibility within the blade. It is the perfect balance between flexibility and stability. Moreover, the ham slicer is ground extremely thin, giving it an inherently precise sharpness. This makes every cut easy and efficient.

The Difference Between a Salmon Knife And a Ham Slicer
The main difference between a salmon knife and a ham slicer is the tip. Salmon knives have a rounded tip because the fibres of the fish should not be damaged, whereas ham slicers tend to have a rounded tip. Many salmon knives and ham slicers have a Kullenschliff. These indentations in the steel form an air cushion between the knife blade and the food to be cut. This helps prevent the food from sticking to the blade. The handle of the salmon knife or ham slicer should have a good grip to prevent slipping.

Find The Right Slicing Knife For You
Friedr. Dick offers various models in different series in its range. From the pointed ham slicer to the flexible salmon knife, Friedr. Dick has all types in stock. For precise cutting edges, Friedr. Dick recommends salmon knives and ham slicers from 25 cm upwards. The largest knife is 32 cm. Kullenschliff or not? You'll find your perfect choice here too.

Cleaning And Caring For Your Knives
All F. DICK knives deserve special care and attention when it comes to maintenance. Never clean your knife in the dishwasher. It's best to clean your knife with hot water immediately after use and then rub it dry. You can find more information and useful tips on how to care for, store and sharpen your knife here.